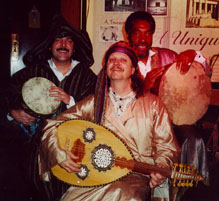 HOTEP CALIFORNIA shown here at the Rosicrucian Museum, San Jose after performances for Madame Saddat, foreign dignitaries, and Silicon Valley notables.


"Live from the Tomb"


Welcome to the HOTEP CALIFORNIA!
The Best of the West in the Land of the Pharaohs, creating a bold new musical landscape.
Featuring music man Paul Alan Smith on bass, keyboards, and sampled "New Age" sounds, Greg Williams on drums and assorted Middle Eastern percussion, and world-renowned musicologist, Michael Gruber specializing in ancient Egyptian songs and instruments.
HOTEP CALIFORNIA - LIVE IN NEVADA
Paul and friends played at: The Hookah Bar Aug. 28 & 29 (near Gerlach) A medieval happening with eclectic music and dancing...Burning Man Festival - the Center Camp Cafe on Friday Aug. 30 at 5 PM (for the "INVASION OF THE BELLYDANCERS")! We were blasted with a duststorm but it was wild, man...

Live Video Soon!